Tour des Trees: Rollin' in Place
August 31, 2020

-

September 4, 2020
Please join us–and challenge family, friends, peers, competitors, and more–as we Roll in Place virtually together!
Aug. 31 – Sept. 4: The main event! While the Tour des Trees: Rollin' in Place virtual campaign spans from July 15 through Nov. 15, the week of Aug. 31 – Sept. 4 was the original schedule for Tour des Trees: Rollin' the Rockies. We will be returning to Colorado in 2021, but we would be remissed to not recognize the week this year as well! Prizes will be awarded to the top fundraisers and top activity trackers for this week. Other virtual engagement including livestream fundraisers and virtual happy hours will also be scheduled and advertised here, so check back soon.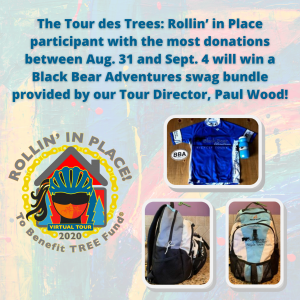 The participant with the most donations this week will be awarded with a Black Bear Adventures Prize Bundle, courtesy of our very own Tour Director – Paul Wood!
Rollin' in Place benefits TREE Fund, a nonprofit seeking and sharing new knowledge in urban forestry. Learn more here treefund.org/tourdestrees.