TREE Fund webinars bring you the latest in tree research, directly from the scientists themselves.
TREE Fund's one-hour webinars are free and offer 1.0 CEU (only for live broadcast) from the International Society of Arboriculture (ISA), the Society of American Foresters (SAF), the National Association of Landscape Professionals (NALP) and sometimes the Landscape Architecture Continuing Education System (LACES). See webinar descriptions for specifics. Space is limited and pre-registration is highly recommended; in doing so, you'll receive a reminder email the day before the broadcast.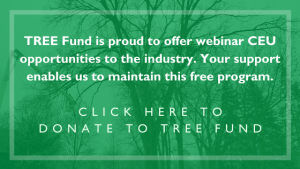 Many thanks to our webinar host Alabama Cooperative Extension System.

Future Webinars
Registration will open approximately one month before the program date.
Planning for the Next Three Letter Urban Tree Canopy Changer: Lessons Learned with DED, EAB, ETC.

Tuesday, April 20, 2021, at 12 p.m. Central

Richard Hauer, PhD, University of Wisconsin – Stevens Point

All aboard a TREE Fund train for trip ride back to what we have learned this past century with some important urban tree canopy game changers. Our first stop is a lesson in biology and an interdisciplinary economic journey using lessons learned from DED and EAB. See how science has led to reliable predictors with a planned stop at preventing tree loss and the currency of canopy. The future journey continues to see how the TREE Fund supports tree changing research and practical results you can use and avoid getting derailed by ETC.

This webinar is co-sponsored by the Alabama Cooperative Extension System

LiDAR based urban tree inventory permits a better evaluation of tree services:  an example from Montréal Canada

Tuesday, May 11, 2021, at 12 p.m. Central

Dan Kneeshaw, PhD, University of Quebec, Montreal

Why do some trees transplant better than others?: a look at some new research on water uptake

Tuesday, June 22, 2021, at 12 p.m. Central

Nina Bassuk, PhD, Cornell University

A Three Pronged Approach to understanding the defensive mechanisms in Green Ash resistant to EAB 

July 27, 2021, at 12p.m. Central

Jeanne Romero-Severson, PhD, University of Notre Dame

Long term effects of electrical right-of-way vegetation management on floral and faunal communities

Tuesday, September 14, 2021, at 12 p.m. Central

Carolyn Mahan, PhD, Penn State Altoona

Growing trees in paved sites

Tuesday, November 16, 2021, at 12 p.m. Central

Alessio Fini, PhD, University of Milan
Visit our NEW Webinar Archive page to catch up on any of our previous webinars!