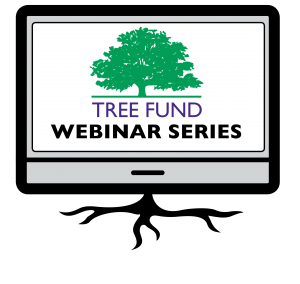 TREE Fund webinars bring you the latest in tree research, directly from the scientists themselves. These one-hour programs are free and offer 1 CEU credit from ISA, SAF, and if relevant, NALP and LACES; see webinar description for specifics. Space is limited, and pre-registration is highly recommended; in doing so, you'll receive a reminder email the day before the broadcast.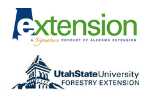 Many thanks to our webinar hosts Alabama Cooperative Extension System and Utah State University Forestry Extension.
May Webinar
Cultivating Innovation – Documenting 15 years of TREE Fund Research Impact
Dr. Andrew Koeser
University of Florida
Dr. Richard Hauer
University of Wisconsin – Stevens Point
TREE Fund contracted Drs. Andrew Koeser and Richard Hauer to conduct a comprehensive, 15-year assessment of the discoveries, impacts, and returns on investment associated with its past research grant awards. Drs. Koeser and Hauer share some of the highlights of this work – from facts and figures to personal accounts by industry leaders on how TREE Fund has impacted their professional lives in their May webinar. You may be surprised at what commonly accepted practices trace their origins to TREE Fund research projects!
May 29, 2019, at 12:00 p.m. Central – translate to your time zone
1.0 CEU from ISA, SAF or NALP for live broadcast
Register for this webinar by clicking here
Andrew Koeser, PhD, Assistant Professor of Environmental Horticulture & Landscape Management, University of Florida
Andrew is a professor in the Gulf Coast Research and Education Center where he conducts research on issues relating to urban landscape sustainability, tree risk assessment/storm failure prediction, and factors that influence urban tree growth and longevity. He received his B.S. from the University of Wisconsin – Stevens Point, M.S. from University of Illinois and Ph.D. also from University of Illinois, and he is Tree Risk Assessment Qualified. Andrew is a prolific researcher and writer, which has earned him the ISA's 2017 R.W. Harris Author's Citation Award and 2015 Early-Career Scientist Award.
Richard Hauer, PhD, Professor of Urban Forestry, University of Wisconsin-Stevens Point, College of Natural Resources, Forestry
Richard Hauer teaches courses in urban forestry, nursery management, woody plants, dendrology, and introduction to forestry. He received his B.S. from the University of Wisconsin – Stevens Point, M.S. from the University of Illinois, and Ph.D. from the University of Minnesota. Rich has conducted research in tree biology, urban forest management, emerald ash borer management, trees and construction, tree risk management, and ice storms. He recently was honored as the 2018 L.C. Chadwick Award for Arboricultural Research. He has published over 130 publications and presented over 300 talks throughout the world.
We are grateful to Alabama Cooperative Extension System for hosting this program.
---
June Webinar
Remediating Compacted Soils Compromised by Urban Construction
Dr. Nina Bassuk
Cornell University
The effects of urban development write a profound signature on the landscape.
Soils are inevitably compacted and regraded or paved over. We have developed  techniques that can remediate these  degraded soils and provide a long-term solution towards creating a sustainable landscape post construction.
When paving is not involved, we developed the 'Scoop and Dump' method soil remediation and have followed its effects over 12 years of practice, measuring soil health and plant growth over the long term.  Briefly, it involves incorporating   significant volumes of compost with a backhoe to create veins of compost for root growth and drainage in previously compacted  soil. Moreover, this compost injection feeds the microorganisms which aid in soil aggregate formation the release of nutrients. This low impact solution to  improving degraded soils holds real promise to help green the urban environment.
June 11, 2019, at 12:00 p.m. Mountain – translate to your time zone
1.0 CEU from ISA, SAF, NALP or LACES for live broadcast
Register for this webinar by clicking here
Nina Bassuk, PhD, Professor, School of Integrative Plant Science, Cornell University
Nina Bassuk has been a professor and program leader of the Urban Horticulture Institute at Cornell University for the past 38 years. She has been a member of the Board of Directors of the New York State Urban Forestry Council and is co- author of 'Trees in the Urban Landscape", a text for landscape architects and horticultural practitioners on establishing trees in disturbed and urban landscapes. In addition, Dr. Bassuk has authored over 100 papers on the physiological problems of plants growing in urban environments, including improved plant selections for difficult sites, soil modification including the development of 'CU-Structural Soil' and improved transplanting technology.  Nina co-teaches a course at Cornell University titled "Creating the Urban Eden", which integrates the woody plant identification and use with landscape establishment techniques for difficult urban sites. She is a frequent invited speaker at national conferences and workshops and recently received the Alex Shigo Award for Excellence in Arboricultural Education from the International Society of Arboriculture.
We are grateful to Utah State University Forestry Extension for hosting this program.
---
Future Webinars
Registration will open approximately one month before the program date.
August 29, 2019, at 12:00 p.m. Central

Dr. Glynn Percival, Bartlett Tree Experts Research Laboratory, UK

Can We Vaccinate Trees to Protect Against Diseases?

November 19, 2019, at 12:00 p.m. Mountain

Dr. Kathleen Wolf, University of Washington

Health Benefits of City Trees: Research Evidence & Economic Values
---
Watch Previous TREE Fund Webinars
Note: CEU credit is only available for live broadcast.
James Urban, FASLA, Urban Trees + Soils; Andrew Millward, PhD, Ryerson University; Adam Nicklin, PUBLIC WORK – February 2019

Dr. Nina Bassuk (Cornell University) – December 2018

Supporting Material:

Webinar presentation slides

Dr. Dan Herms (The Davey Tree Expert Company) – November 2018

Supporting Material:

Webinar presentation slides

Dr. Brian Kane (University of Massachusetts, Amherst) – August 2018

Supporting Material:

  

Utility Arborist Research Fund: Work in Progress, Work to Come

J. Eric Smith, TREE Fund and Dr. Christopher Halle, Sonoma State University – May 2018

Supporting Materials:

Presentation was very large so has been uploaded in four parts:

Dr. Whitney Cranshaw, Colorado State University – May 2018

 

Dr. Michael Arnold (Texas A&M University) – February 2018

Dr. Andrew Hirons (Myerscough College, U.K.) – November 2017

Tree Species Selection Guide (based on this research)

Dr. Richard Hauer (U. of Wisconsin – Stevens Point) – September 2017

Dr. Susan Day (Virginia Tech) – June 2017

Supporting Materials:

 

Dr. Andew Koeser (U. of Florida) – April 2017

Dr. Bryant Scharenbroch (U. of Wisconsin – Stevens Point) – November 2016

Supporting Materials:

Dr. Ed Gilman (U. of Florida) – May 2016

Dr. Nina Bassuk (Cornell University) – Sept 2015

Dr. Rich Hauer (U. of Wisconsin – Stevens Pt.) – April 2015