TREE Fund webinars bring you the latest in tree research, directly from the scientists themselves.
TREE Fund's one-hour webinars are free and offer 1.0 CEU (only for live broadcast) from the International Society of Arboriculture (ISA), the Society of American Foresters (SAF), the National Association of Landscape Professionals (NALP) and sometimes the Landscape Architecture Continuing Education System (LACES). See webinar descriptions for specifics. Space is limited and pre-registration is highly recommended; in doing so, you'll receive a reminder email the day before the broadcast.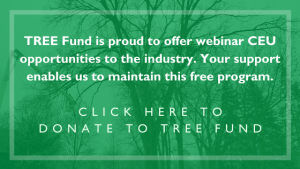 Many thanks to our webinar host Alabama Cooperative Extension System.

Future Webinars
Please join us for TREE Fund's 2022 webinar series.
Registration will open approximately two weeks before the program date.
Enhancing the performance of urban storm water management schemes with tree selection: developing a new approach to assessing waterlogging tolerance of temperate trees

Tuesday, April 19, 2022 at Noon (Central Time)

Andrew Hirons, PhD, University Centre Myerscough, UK

When trees are incorporated into storm-water management schemes, it is critical that we have an understanding of the tree's ability to cope with periodic waterlogging. This presentation will discuss waterlogging tolerance in trees and share results from a field trial that used sap flow to evaluate waterlogging tolerance of a range of temperate trees. The data suggests that the assessment of sap flow in trees can give real insights into abiotic stress, even in the absence of visual symptoms. If you are interested in how tree selection can enhance your stormwater management scheme, then this presentation will be well worth tuning in to.

ISA and SAF CONTINUING EDUCATION CREDITS available for watching the entire live broadcast

ISA CEU Category: BCMA Science: 1, Practice: 0, Management: 0, Climber Specialist: 1, Certified Arborist: 1, Utility Specialist: 1, Municipal Specialist: 1, Aerial Lift: 1.

SAF CFE Category: Cat 1: 1, Cat 2: 0

Many thanks to our webinar host Alabama Cooperative Extension System.

Non-invasive tree root detection: What is the state of the art?

Tuesday, November 1, 2022 (Central Time)

Andrew Millward, PhD, and Justin Miron, PhD student, Ryerson University

Engaging underserved populations in community tree management activities

Tuesday, December 6, 2022 (Central Time)

Jason Gordon, PhD, University of Georgia Research Foundation, Inc.
TREE Fund 2022 webinars are co-sponsored by the Alabama Cooperative Extension System 

Visit our  Webinar Archive page to catch up on any of our previous webinars!