TREE Fund webinars bring you the latest in tree research, directly from the scientists themselves.
TREE Fund's one-hour webinars are free and offer 1.0 CEU (only for live broadcast) from the International Society of Arboriculture (ISA), the Society of American Foresters (SAF), the National Association of Landscape Professionals (NALP) and sometimes the Landscape Architecture Continuing Education System (LACES). See webinar descriptions for specifics. Space is limited and pre-registration is highly recommended; in doing so, you'll receive a reminder email the day before the broadcast.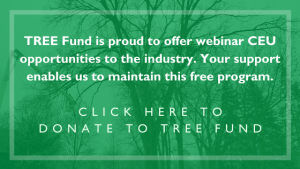 Many thanks to our webinar host Alabama Cooperative Extension System.

Future Webinars
Registration will open approximately one month before the program date.
Tuesday, May 11, 2021, at 12 p.m. Central (60 min.)

Dan Kneeshaw, PhD, University of Quebec, Montreal

Current tree inventories are often based primarily on public trees while private trees are not captured. LiDAR technology permits a complete evaluation of all trees in a city; quickly quantifying tree position, tree height and crown volume and area. Our work showed that simple rules of thumb such as the number of private trees is equivalent to the number of public trees is not a valid generalization as the ratio varies greatly by neighbourhood. We also showed a stronger relationship between noise levels in the city of Montréal and tree characteristics than with canopy cover or NDVi. LiDAR offers great potential for evaluating many tree related services in the urban forest.

CEU offered through ISA and SAF.  ISA CEU Category: BCMA Science: 0, Practice: 0, Management: 1, Climber Specialist: 1, Certified Arborist: 1, Utility Specialist: 1,  Municipal Specialist: 1, Aerial Lift: 1.  SAF CEU Category: Cat 1: 1, Cat 2: 0

This webinar is co-sponsored by the Alabama Cooperative Extension System

Why do some trees transplant better than others?: a look at some new research on water uptake

Tuesday, June 22, 2021, at 12 p.m. Central

Nina Bassuk, PhD, Cornell University

A Three Pronged Approach to understanding the defensive mechanisms in Green Ash resistant to EAB 

July 27, 2021, at 12p.m. Central

Jeanne Romero-Severson, PhD, University of Notre Dame

Long term effects of electrical right-of-way vegetation management on floral and faunal communities

Tuesday, September 14, 2021, at 12 p.m. Central

Carolyn Mahan, PhD, Penn State Altoona

Digging into the Science of Tree Planting and Removing Packaging Materials

Tuesday, October 19, 2021, at 12 p.m. Central

Richard Hauer, PhD, University of Wisconsin – Stevens Point

Andrew Koeser, PhD, University of Florida

Jason Miesbauer, PhD, The Morton Arboretum

Growing trees in paved sites

Tuesday, November 16, 2021, at 12 p.m. Central

Alessio Fini, PhD, University of Milan
Visit our NEW Webinar Archive page to catch up on any of our previous webinars!