TREE Fund webinars bring you the latest in tree research, directly from the scientists themselves.
TREE Fund's one-hour webinars are free and offer 1.0 CEU (only for live broadcast) from the International Society of Arboriculture (ISA), the Society of American Foresters (SAF), the National Association of Landscape Professionals (NALP) and sometimes the Landscape Architecture Continuing Education System (LACES). See webinar descriptions for specifics. Space is limited and pre-registration is highly recommended; in doing so, you'll receive a reminder email the day before the broadcast.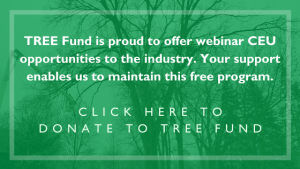 Many thanks to our webinar host Alabama Cooperative Extension System.

Future Webinars
Registration will open approximately one month before the program date.
Tuesday, October 19, 2021, at 12 p.m. Central

Richard Hauer, PhD, University of Wisconsin – Stevens Point

Andrew Koeser, PhD, University of Florida

Jason Miesbauer, PhD, The Morton Arboretum

Can you believe not everyone agrees with whether a person should remove or not remove materials (e.g., wire basket and burlap) that hold a soil root ball together? To dig into this question, we used multiple study locations to test how trees respond to full, partial, and no removal of packaging materials. Interestingly, tree survival and growth were excellent regardless of removal treatment. Trees were also pulled to failure with similar outcomes regardless of treatment. The ramifications of study results will be put in context with key aspects of tree planting and establishment practices.

This webinar is co-sponsored by the Alabama Cooperative Extension System

Growing trees in paved sites

Tuesday, November 16, 2021, at 12 p.m. Central

Alessio Fini, PhD, University of Milan
Visit our NEW Webinar Archive page to catch up on any of our previous webinars!