Important Update:
Tour des Trees Participants,
Although we are months away from the 2020 Tour des Trees, we wish to address any concerns you may have about the health and safety of this event. Tour des Trees is scheduled for the end of August. We will continue to monitor local health orders and CDC guidelines with the health and safety of all TdT participants as our primary concern. At this time we have faith in a healthy future and will not plan for any immediate changes to event plans and logistics.
As you continue to support your local businesses in this trying time, we ask that you also continue to support TREE Fund and Tour des Trees. Registration and fundraising will remain open, and we also continue to search for event partners and hosts.
In the meantime, we hope you will stay safe. Limit your exposure, and consider home-based training alternatives if you are at risk of public exposure. Take advantage of cellular and online communication as you pursue fundraising opportunities, and let us know if you have any questions.
Paul Wood and Maggie Harthoorn
What is the Tour des Trees?
The Tour des Trees is an annual long-distance cycling adventure which serves as the primary public outreach and community engagement event for Tree Research and Education Endowment Fund (TREE Fund). Since 1992, Tour des Trees riders have cycled through communities in the U.S., Canada and the U.K., planting trees, educating children and shining a light on the work done by arboriculture professionals and the importance of science-based tree care.
The Tour des Trees serves to advance TREE Fund's mission of supporting scientific discovery and dissemination of new knowledge in arboriculture and urban forestry. TREE Fund research has produced better ways to plant and care for urban trees, making them more resilient, more resistant to pests, and less prone to failure. The Tour also supports education programs aimed at connecting young people with the environment and career opportunities in green industries. TREE Fund has been able to disburse more than $4.4 million in grant and scholarship funding since 2002, and the Tour des Trees has been a key component in the organization's ongoing success.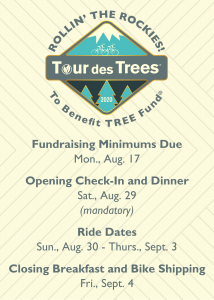 Full-Tour cyclists commit to raising at least $3,500 for TREE Fund; part-time riders have reduced commitments. Event expenses are defrayed by TREE Fund's generous partners, so funds raised by riders can be applied to new grants, payments on multi-year grants awarded in prior years, or added to permanent endowment funds that will sustain research into the future.
The 2020 Tour des Trees will be held from August 29 to September 4, 2020 in beautiful Colorado with a target distance of ~300 miles over five full days of riding. ISA Rocky Mountain Chapter is collaborating with TREE Fund on the 28th annual staging of our most important community engagement event. Opening check-in and dinner will be on Saturday afternoon/evening, August 29, with a closing dinner celebration on Thursday, September 3 followed by top fundraiser awards, check-out and bike shipping on the morning of Friday, September 4.
The links below provide key information for riders, volunteers, donors, and those considering participating in or supporting the event. We hope to see you on the Tour this year!