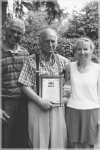 Jack was truly one of the forefathers of arboriculture in this country. His long and very successful career in arboriculture began back in 1956 when he joined the International Society of Arboriculture (ISA), then known as the International Shade Tree Conference. His membership lasted a span of 46 years until his death in July of 2002. In addition to being the Director of Parks for the City of Toronto until his retirement in 1982, Jack held many prominent positions with ISA. In 1961 he was elected President of the then Board of Governors for the Canadian Chapter. In 1970 he was elected President of the International Shade Tree Conference after holding positions as President Elect, Vice President and Chair of several steering committees. In 1982 Jack became the first Executive Director of the Canadian Chapter of ISA, a position he held until 1994.
Over the course of all these voluntary commitments, Jack was recognized with many distinguished awards including ISA's Maple Leaf Award honouring an individual who has provided exceptional energy, leadership and commitment to promoting and improving arboriculture and urban forestry for more than 10 years; the Special Achievement Award, recognizing someone who has provided valuable and ongoing service to the Chapter; ISA's Honourary Life Member Award; and the Award of Merit, ISA's highest level of distinction.
The Jack Kimmel grant is administered in conjunction with Canadian Tree Fund and promoted through the worldwide ISA network. Grants will be limited to projects requesting up to $10,000 and are supported primarily through donations to riders who participate in the Tour des Trees.