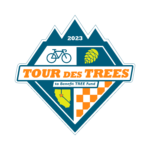 Thank you to all our 2023 riders, supporters, volunteers, and donors!
What a wonderful Tour!
The 2023 Tour des Trees might go down as both the most beautiful and most challenging ride we have done and we have a great time doing it. Fundraising for the 2023 Tour des Trees concluded in October and we are very thankful for those who contributed to this year's campaign.
This year's ride returned to pre-pandemic numbers with 77 riders- including 22 first-time riders- who spent five beautiful days riding from Half Moon Bay, California. New this year, we also started the TdT 350/350 Challenge where participants would ride 350 miles and fundraise $350 over the summer and we are very thankful for the 23 participants that completed the whole challenge! In total, the 2023 event raised over $365,800 in support of the TREE Fund!
Over the course of 407 miles, our riders were able to see the sights and spread their love of trees all over the region. We started the ride by planting a tree in Reno, Nevada where we received an official proclamation for "Tour des Trees Day" in the city, planted more trees near Lake Tahoe and in San Jose, attended Professor Pricklethorn PeP rallies at St. Albert School in Reno and at the Patterson Library in Patterson, CA, celebrated arborists in the region with the Western Chapter ISA in San Jose, and got to experience the beautiful Redwoods and Giant Sequoias along the route and at Calavaris Big Trees State Park with the Arnold Lions Club.
We would not have been able to put this event together without the support of the TREE Fund's Partners and we would especially like to recognize our Crown and Platinum Partners; Asplundh, Bartlett Tree Experts, Corteva, The Davey Tree Expert Company, International Society of Arboriculture, SavATree, the Arbor Day Foundation, FirstEnergy, PECO, and Wright Tree Service. We would also like to give an additional special mention to the following groups for their support at this year's ride: Vermeer, Indiana ISA, KASK, and West Coast Arborists. Finally, we would like to thank Western Chapter ISA for being such wonderful hosts and for all their help in putting together a great event.
The planning of an event like this is typically a year-long process and our planning committee took multiple hours out of their already busy schedules to help put this year's event together and make it the best it could be. We'd like to thank the following individuals from that committee for their time and hard work: Steve Geist, Thom Kraak, Ben Rickenbacker, Donna Davis, Don Roppolo, Cindy Schwab, Laurie Skul, Tom Wolf, Peter Andre, Terry McGonegle, Sam VanMaanen, Pete Smith, Emma Hanigan, Mike Cimprich, Doug Anderson, Randy Hopp, Mark Crane, Eric Smith, and Jacques Brunswick. We would also like to thank our great Tour Manager, Paul Wood, for creating a beautiful and safe route.
Of course, there is also a little friendly competition that goes on during the ride and we would like to recognize our top fundraisers:
Fundraising Top 10
Paul Sellers- $17,950
Paul Putman- $12,500
Clement Desjardins- $9,950
Pete Smith- $8,750
Steve Geist- $8,452
August Hoppe- $6,755
Randy Miller- $6,625
Dick Rideout- $6,391
Ben Rickenbacker- $5,945
Em Roberts- $5,237
350/350 Challenge Fundraising Top 6
Anna Heckman- $927
Joshua Best- $650
Kevin Carr- $505
Justin Reynolds- $501
Dave Leonard- $500
Patrick Anderson- $500
Fundraising Top 10 Teams
New England Team- $30,950
Wisconsin Team- $23,531
Rocky Mountain Chapter- $29,813
Pacific Northwest Team- $22,685
Team Arbor Day- $15,935
Aspen- SavATree Team- $15,245
Team CNUC- $14,945
Michigan Team- $11,801
New York Team- $11,167
Asplundh Team- $8,615
We are now looking ahead to 2024 and the Tour des Trees traveling to New York and New England! Keep an eye out for announcements regarding dates and locations soon. Hope to see you there and thank you again for your support of the TREE Fund!