Beth Buchanan wins Ken Ottman Volunteer Award
The TREE Fund is pleased to announce its 2016 Ken Ottman Volunteer Award winner – Beth Buchanan of Mantua,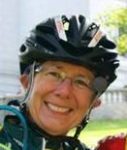 OH. Congratulations, Beth!
Beth is a passionate and tireless advocate and fundraiser for the TREE Fund. As the TREE Fund Liaison to the International Society of Arboriculture's Ohio Chapter and the captain of STIHL Tour des Trees' Team Ohio she embodies the mission of the TREE Fund and is an inspiration to her colleagues and fellow riders. Under her leadership, Team Ohio took top fundraising honors in 2015, raising a record-breaking $103,100 for the TREE Fund.
What's the secret to Beth's success? Those who know her say she truly believes in the TREE Fund's work, expresses herself compellingly to potential donors, and closes the deal. She also is open to new places and ideas, traveling extensively throughout Ohio to promote the  TREE Fund mission wherever members of the tree care community gather. She championed the idea of a pig roast to raise funds for Team Ohio, an event which has grown in popularity and set a high bar for successful fundraising. Beth's enthusiasm is contagious, and her humility, professionalism, and gratitude towards donors, volunteers, and supporters is legendary. Plus she's a lot of fun to be around!
An Ohio colleague summed it up on her nomination form: "Beth is a fundraising powerhouse who never misses an opportunity to spread the word about the importance of tree education and research. As captain of Team Ohio she continually breaks team fundraising records but never rests on her laurels – striving every year to increase the amount of funds raised. Beth will take every opportunity, big or small, to get in front of a group to speak about the importance of the TREE Fund's work. She has a terrific knack for turning her passion into TREE Fund contributions. Beth is the most passionate TREE Fund supporter I know, and I cannot think of anyone more deserving of this award!"
The Ken Ottman Award is an annual honor established in 2007 that recognizes a special volunteer who has made noteworthy contributions to advance the mission of the TREE Fund. Awardees receive a specially designed sculpture engraved with their name and year; their name is also added to the Ken Ottman Award plaque displayed in the TREE Fund office in Naperville, IL.