Volunteer Spotlight: Peter Sortwell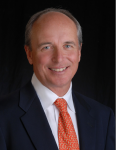 This month's volunteer spotlight is shining on Peter Sortwell, Founder and CEO of Arborwell, and first-time Tour des Trees rider. Peter has always wanted to ride the Tour, but his busy life as an arborist, business owner, community volunteer and father left little time to pursue that goal. At his recent retirement as Chairman of the Board of TCIA, the organization surprised him with "seed" money for a Tour fundraising campaign. Peter immediately registered to ride and in the first week had turned that initial gift into ~$7,800 for tree research and education!
We are grateful for Peter's many contributions to the tree community through the years, his enthusiasm for the Tour, and his leadership at TCIA that benefits all of us in the industry. Thank you, Peter, for your support of TREE Fund and its mission!
To suggest someone for the Spotlight, please contact Karen Lindell.