Spring 2011 TREE Fund Report: Hyland Johns Grant & Scholarship Awards Announced
Return to Table of Contents – Spring 2011 TREE Fund Report
Grant and Scholarship Awards Announced
The Research Committee of the TREE Fund Board of Trustees recently awarded Hyland R. Johns Research Grants of $25,000 each to Dr. Brian Kane, Associate Professor of Arboriculture and Community Forestry at the University of Massachusetts, and Dr. Bryant Scharenbroch, Urban Soil Scientist for The Morton Arboretum.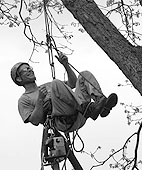 Dr. Kane's research project seeks to provide robust empiric data to describe the effects of cabling trees as well as to support guidelines for installation and best practices. The proposed study will investigate a) tree growth in response to the installation of cables (steel and fiber), b) wind-induced dynamic motion of cabled trees, and c) discoloration and decay associated with drilling trees to install anchors for cables. In the autumn of 2006, steel cables and COBRA systems were installed in large red oaks with co-dominant stems. In the autumn of 2011, the cabled trees will be compared against uncabled oaks with co-dominants. Prior to their removal in 2011/2012 the trees will be measured for wind-induced dynamic motion, providing an additional data set to compare the effect of both support systems against the control trees.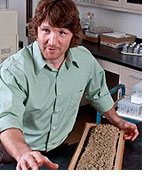 Dr. Scharenbroch's research focuses on Biochar, a waste product of the burning of biomass and a superior organic amendment for urban soil restoration. The Morton Arboretum Soil Science (MASS) laboratory and Bartlett Tree Research Laboratories have designed three experiments to take a comprehensive look at biochar for urban tree care. These projects will compare biochar to other nutrient amendments (fertilizer, compost, mulch, compost tea) in a greenhouse setting with tree seedlings, a nursery setting with five year old trees, and an urban landscape setting with street trees ten to twenty years old. Improvements in soil quality will be quantified, tree health will be assessed and appropriate application rates will be identified.
Scholarship winners: The Research Committee also approved awards of Robert Felix Memorial Scholarships of $3,000 each to:

David Golon of Locust Valley, NY, studying Arboriculture and Community Forest Management at the Stockbridge School of Agriculture of the University of Massachusetts
Daniel Gjerston of Waconia, MN, studying Horticulture at the University of Wisconsin-Madison
Matthew Bauer of Schaumburg, IL, studying Forestry Management at the University of Wisconsin-Stevens Point
In addition, a $2,000 John Wright Memorial Scholarship was awarded to
Barbara Koerble of Fort Worth, TX, studying Horticulture at Tarrant County College, TX.
Congratulations to all award recipients.