Summer 2010 TREE Fund Report: Ten Days of Fun in 2010
Return to Table of Contents – Summer 2010 TREE Fund Report
"Ten Days of Fun in 2010" raises $525,000-plus for the TREE Fund
A jam-packed calendar of fundraising events in July has brought in more than $525,000 in gross revenues to the TREE Fund to date. Preliminary financial reports indicate that our two major fundraisers, the STIHL Tour des Trees and the Raise Your Hand for Research auction, surpassed last year's revenue totals and once again covered all event costs with sponsorship dollars. Gross revenues from the auction topped $87,000 and the 2010 Tour gross revenues are expected to exceed $450,000. Individual and Team fundraising for the Tour surpassed 2009's effort by $15,000, and a dozen riders from the US and Canada each raised $5,000 or more for research.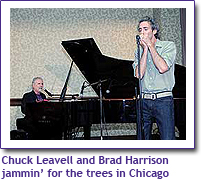 Chuck Leavell, who divides his time between an international music career and his family's tree farm in Georgia, headlined an intimate concert and charity auction in Chicago on July 17 to benefit the TREE Fund and the American Forest Foundation. Actor Matthew Modine, champion of "Bicycle for a Day", joined Chuck and David Spero of the Rock & Roll Hall of Fame for an evening of lively conversation and great music highlighted by a surprise appearance by harmonica virtuoso Brad Harrison of Rockford, IL.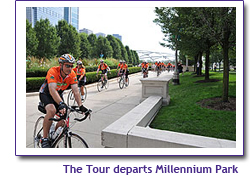 The benefit concert doubled as the kick-off for the 2010 STIHL Tour des Trees, which launched the next day from Chicago's Millennium Park. Chicago's favorite "green" radio personality Mike Nowak broadcast his weekly radio program live from Millennium Park, talking trees with The Davey Tree Experts' Geoff Cowan and The Care of Trees' Shawn Kingzette, Tour riders Beth Buchanan, John Kirchner, Andy Kittsley and Kristin Wild, Bartlett Tree Experts' Scott Jamieson and Chicago's Commissioner of the Environment Suzanne Malek-McKenna, who donned a jersey to lead the Tour out of the park at 10 a.m. Storm clouds threatened but the rain held off, and the Tour riders were treated to a spectacular view of Chicago and its lakefront as they departed.
In the six days that followed the riders enjoyed frozen custard in Zion, Rockford's Anderson Japanese Gardens, Galena's historic downtown, dinner in Dubuque, Moline's beautiful riverfront, Princeton's small-town hospitality and Naperville's scenic Riverwalk, finishing with a "what-a-ride!" celebration dinner at the Morton Arboretum. Illinois' typical July heat and humidity kept the water bottles low all week, but the real weather held off until Saturday when an unscheduled monsoon swept the much-anticipated "Ride for Research" and closing ceremonies at the Morton Arboretum down the storm drains.
It was a successful Tour despite the soggy finish. 21 new riders swelled the ranks to 73 full- and part-time cyclists. The TREE Fund's newest Partner, KASK America, outfitted the entire Tour with custom cycling helmets to compliment the black and orange jerseys, which were underwritten by an anonymous benefactor ("Riderideride, man alive"). Twelve new trees were planted, mulched and blessed with the Tour's signature "Grow, tree, grow!" mantra, upgraded in 2010 to include a beaver-tail slap á la Team Canada. (See accompanying story "2010 STIHL Tour des Trees Continues a Legacy of Trees and Education").
Congratulations to our top three fundraisers: Terrill Collier ($9576), Phil Graham ($8126 US) and Dick Rideout ($7921) who received merchandise certificates from title sponsor STIHL.
Asplundh's annual golf outing to benefit the TREE Fund, scheduled for July 25, was another casualty of July 24th's deluge, though prepaid registrations and sponsorships were converted to donations.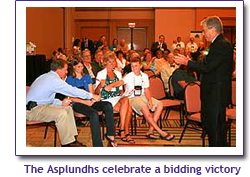 The Raise Your Hand for Research auction finished out the "Ten Days" on a festive note, thanks to Host Sponsor ISA, Silver Leaf Sponsor SherrillTree and Bronze Sponsors Penn-Del ISA and West Coast Arborists. Attendance set new records, as did the 50/50 raffle payout (congrats to Bartlett's John Signorini, who collected a $5000 payout on his $20 investment). Music, martinis and a diverse catalog contributed by Asplundh, APS, The Davey Tree Expert Company, Wright Tree Service, Inc., Lewis Tree Service, SherrillTree, 16 ISA Chapters and a host of others contributed sparkle (and revenue) to the evening, as did a small battalion of volunteers in formal wear intent upon keeping the mood upbeat and the cashiers busy. High bidders went home with vacations, getaways, wine, electronics and handmade furniture, to name a few. The Port Ellen Single Malt Scotch is on its way to Australia, where it will be put up for bid for the third time to raise money for research at the 2011 ISA Conference in Sydney.
For a preview of 2011 special events, see the accompanying story "Looking Ahead to Australia (and Savannah, and Virginia..)"