Summer 2010 TREE Fund Report: Biomechanics Week Yields New Answers, New Questions
Return to Table of Contents – Summer 2010 TREE Fund Report
Contributed by: Elizabeth Buchanan and Ward Peterson
Imagine 30 or 40 six-year-olds sequestered in a giant sandbox for a week, armed with buckets and excavators, trucks, and wagons. There is no limit to the ingenuity, creativity, and fun they'd generate. That scenario was brought to mind recently by the Tree Biomechanics Research Week and Symposium held in Ohio August 22 – 27, 2010. Research teams from Germany, Canada, Australia and the United States gathered to share and expand their knowledge of tree dynamics and the effects of natural, accidental and deliberate modifications to trees in landscapes.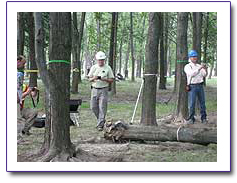 The International Society of Arboriculture organized and sponsored the event, supported by a $10,000 grant from the TREE Fund. Additional support came from Utility Arborists Association (UAA), Busy Bee Services, Ltd., BioCompliance Consulting, Arboricultural Research and Education Academy (AREA), U.S. Department of Agriculture Forest Service, Ohio Chapter of the ISA, Ohio Division of Natural Resources/Urban Forestry, The Davey Tree Expert Company, Sherrill Tree and STIHL.
The 'sandbox' was Davey's 40-acre Tree Research Farm in northeast Ohio, home to hundreds of 30- to 35-year old trees that provided replicates and controls for a week's worth of research requiring damage or destruction of trees in order to obtain data. Davey also hosted a research symposium on Thursday and Friday at their main campus in Kent, Ohio. The symposium gave researchers an opportunity to present their work – including some results from the previous three days – to an audience that included practicing arborists and fellow researchers.
Some of the Research topics addressed during the week were:
Effects of root cutting on tree stability
ffect of branch orientation on breaking strength using multiple loading points
New pruning approaches based on new understanding of tree and branch strength
How injuries and decay affect the strength of a tree
Determining causes for tree failure
Effects of wind and ice on trees
Means for building stronger trees with less pruning
Effect of utility pruning on residual branch strength
Effect of pruning on tree oscillation
Root-soil interaction on biomechanics of tree trees subject to wind loads
Root growth bias study
Testing the validity of models used to quantify load-bearing capacity of damaged and decayed stems
Use of WindCALC to calculate safety factors
Branch allometric studies
Collaboration was the order of the day: research ideas and approaches were exchanged, discussed and dissected, and new research topics took shape.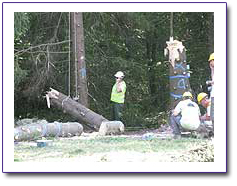 The discussions, especially the informal conversations, resulted in better understanding of concepts and theories. Of particular benefit was the proximity to the trees, equipment, researchers and technicians. Scientists could walk to the site and view first-hand the experiments and their results, discuss the findings and brainstorm the next question to be investigated.
Plans for a follow-up event are already taking shape. Researchers and arborists agreed to reconvene in Ohio in 2013 to follow up on long-range research projects, including a study of trees' abilities to recover from damage to trunks and roots, and to continue their investigations into tree biomechanics and other evolving areas of interest.