Summer 2010 TREE Fund Report: TREE Fund Debuts New Named Funds and Grant Programs
Return to Table of Contents – Summer 2010 TREE Fund Report
The TREE Fund is pleased to announce additions to our portfolio of funds and programs. The Bob Skiera Memorial Fund, the Building Bridges Initiative and the Jack Kimmel International Grant Program all pay tribute to the work of great arboricultural leaders.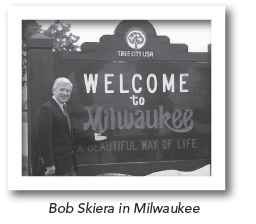 The Bob Skiera Memorial Fund has been growing slowly over the past several years, buoyed by the efforts of Tour des Trees rider Dick Rideout and others from the Wisconsin Chapter of ISA. The Skiera Fund took a giant leap forward in 2010 with a $75,000 lead gift from the Wisconsin Chapter, and the TREE Fund launched at the 2010 ISA Conference a campaign to raise an additional $400,000 for the Fund. $500,000 is required to endow the Skiera Fund's "Building Bridges Initiative", whose mission will be to support the communication of science-based urban forestry principles and practices to urban planners, developers, landscape architects, civil engineers and students of all ages.
ISA Executive Director Jim Skiera, son of the late Bob Skiera, joined forces with Rideout on the 2010 STIHL Tour des Trees to raise money for the Skiera Fund and promote the Building Bridges Initiative's mission. The fund was conceived as a lasting tribute to Bob Skiera, Milwaukee's favorite City Forester, who was well known for his warmth and communications skills.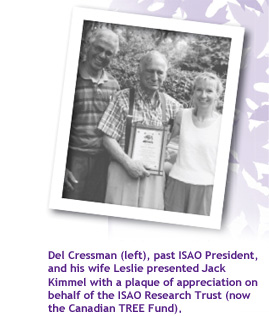 The Jack Kimmel International Grant Program, championed by the Canadian TREE Fund, honors the late Jack Kimmel, former Director of Parks for the city of Toronto, who contributed 46 years of active leadership the ISA and its Ontario Chapter. Jack Kimmel Grants will provide much-needed funding to arboriculture and urban forestry researchers all over the world.
This grant program will be administered jointly by the TREE Fund and the Canadian TREE Fund. Grants will be limited to a maximum of $10,000 per project and will be supported primarily through donations to Canadian Tour des Trees cyclists. The deadline to apply for a Jack Kimmel International Grant is November 1, 2010. For more information and an application form please click here