Crowning Achievements: Tree Care Volunteers
What does your community ask you to do for the trees you live with? How does this information effect decision making by municipalities when it comes to sustainable urban forestry programs? Dr. Richard Hauer, University of Wisconsin – Stevens Point, answers these questions in his latest TREE Fund supported research on volunteers and their involvement in municipal tree care activities as part of his Hyland R. Johns grant, "Sustainable Urban Forestry Planning Models and Decision-Making Dashboard".
Overall, volunteers completed nearly 5% of tree care activities in the municipalities surveyed for this study. While this is by no means a replacement for municipal staff or contracted services, volunteer assistance cannot be discounted when challenging fiscal decisions are being made. Many strong municipal forestry programs across the United States involve volunteers, and developing community outreach and training programs are a proven way to increase the involvement of community members in tree care. While tree planting is the most common activity, it is important to point out that volunteers also have impact on tree awareness and education, fundraising and policy development – as well as in helping trees reach maturity through watering and pruning. Volunteers are a resource whose value can be maximized if they are properly integrated into project planning.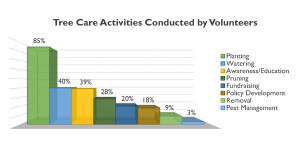 We are proud to support Dr. Hauer's continued development of his dashboard. As more functionalities are added, its value as a tool for municipalities will continue to grow. Access more vital learnings from Dr. Hauer's research on volunteers, among many other topics, by clicking here.
Click here for the complete, July 2019 issue of TREE Press.