Congratulations and thank you to everyone who made the 2019 Tour des Trees to Benefit TREE Fund a roaring success! This year's Tour found 80 riders and 20 support staff cycling over 440 miles in five days through the rolling hills of Tennessee and Kentucky in mid-September. During this celebration-filled week of trees, cycling and comradery, we also met with municipal leaders, local businesses and volunteer groups, and engaged with as many as 450 elementary school students through Professor Elwood Pricklethorn's PEP Rallies, fostering knowledge and a love of trees with our young people and their teachers. The Professor's mission of cultivating a healthy future for urban forests is a vital component of the Tour, and we are honored to have him and his agent, Team Canada rider Warren Hoselton, on the road with us each year.
Along with the amazing cycling and educational feats of the 2019 Tour, we are also happy to report on our fundraising successes! The Tour des Trees 2019 fundraising campaign closed on October 1st with a total of $385,201 raised to advance TREE Fund's mission of supporting scientific discovery and dissemination of new knowledge in arboriculture and urban forestry. Approximately $15,000 of that funding arrived at our offices after the Tour's closing breakfast, and with these gifts factored in, we are proud and grateful to present our final 2019 Fundraising Leader Board:
Dick Rideout (Team Wisconsin) $13,929
Randy Miller (Team Utah) $11,794
Mike Neal (Team Western) $8,748
Tom Wolf (Team Southern) $8,544
David Gorden (Team ASLA) $8,384
Jacques Brunswick (Team New York) $8,285
Steve Geist (Team Rocky Mountain) $8,271
J. Eric Smith (Team Iowa) $7,743
Clem Desjardins (Team New York) $7,631
Peter Sortwell (Team Western) $7,270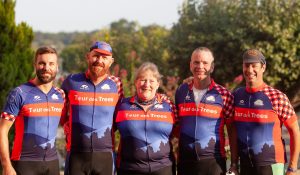 ISA Southern Chapter (one of our two hosts, along with Kentucky Arborist Association) was our top fundraising team this year, collectively raising a total of $33,283 and earning the privilege of presenting the "big check" to TREE Fund at our closing breakfast.
Fresh off the success of this year's Tour des Trees to Benefit TREE Fund, we are excited to get the ball rolling as we prepare for Tour des Trees 2020 in Colorado. Stay tuned as more information becomes available, and see you again next year!
Thank you Tour des Trees Planning and Welcoming Committee Members – we couldn't have done it without you!
Planning Committee: Beau Brodbeck, David Gorden, Maggie Harthoorn, Brett Heinrich, Warren Hoselton, Jeffery Iles, Dave Leonard, Danny Lippi, John Morris, Jonathan Perkins, Don Roppolo, John Saylor, Laurie Skul, J. Eric Smith, Dave Staats, Tom Wolf, Paul Wood
Welcoming Committee: Warren Hoselton, Jeff Iles, Dave Leonard, Don Roppolo, Cindy Schwab, Laurie Skul, Dave Staats, Tom Wolf, Paul Wood
Click here for the complete, October 2019 issue of TREE Press.