Raise Your Hand for Research Auction Returns to ISA Conference: Winter 2012
Return to Table of Contents – Winter 2012 TREE Fund Report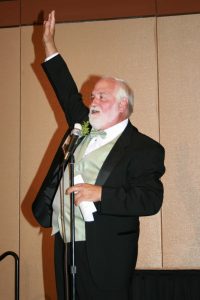 Make plans to "Raise Your Hand for Research" at the TREE Fund auctions while you're at the ISA Conference in Portland.
The live auction will be held at the Portland, OR Doubletree Hotel from 6-8 pm on Monday, August 13. The evening will feature hors d'oeuvres, an Oregon wine tasting, games of chance, an exclusive selection of silent auction items and the talents of celebrated benefit auctioneer Graham Crow. Up for bid are a resort stay in Bali, a culinary excursion to Tuscany (cooking classes included) and an African photo safari, in addition to stateside excursions, wine country tours, fine artwork, woodwork and more.
Purchase your ticket at the door for $35, or save $10 by purchasing your auction ticket with your ISA registration.
The silent auction moves to the ISA trade show floor in 2012, with bidding and Split-the-Pot raffle ticket sales continuing through Tuesday afternoon. Raffle tickets also are available from TREE Fund Chapter Liaisons and Trustees. Three raffle winners will split 50% of the ticket sales proceeds, which have topped $10,000 in recent years. Auction donors and sponsors should contact Fund Development Assistant Laura Cusick at the TREE Fund (630-369-8300 x203) or visit the Auction page at www.treefund.org for more information.