Take Root Community Education Project
2014 | Media Working Group, Inc.
Take Root tells the story of America's urban and community forests: their history, their growing importance to our health, economy and environment – and the serious threats they now face. Through stories of everyday people on the front lines of change, the film will show how community-wide efforts can save and protect our urban forests for future generations. Designed for audiences of all ages, Take Root inspires viewers to take action, and points towards first steps.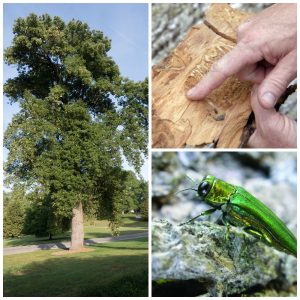 Results
The Taking Root Media Education Project created a Community Action Toolkit that was comprised of fact sheets, booklets and videos and other resources to help increase awareness about the benefits of our tree canopy and the current threats due to the emerald ash borer (EAB) and other invasive pests.
Two thousand print copies of the toolkit were distributed to municipal leaders, businesses, schools and citizens at conferences and other community-wide events. The toolkit was also made available electronically online at www.takingroot.info.
Prior to this funding there were no comprehensive public education materials that were specifically designed for the Southwest Ohio region about EAB and the threats of invasive pests to our tree canopy.
The funding provided resources so that these materials could be produced and used to benefit in a coordinated manner by the key reforestation organizations in Cincinnati. These groups were then able to increase education and communication about EAB to broader audiences.
Additionally, the videos and print materials were incorporated into a national public television documentary called Trees in Trouble about emerald ash borer and other invasives, which began airing on PBS on Arbor Day 2016. As of September 2018, it had been seen by approximately 65 million viewers. Trees in Trouble was also selected to be part of the International Film Festival of the Forests in Mantova, Italy, November 26-30, 2018; it was the only American film selected that year. The issue of invasives and their impact on our trees is a global problem, and the film screening will help inform the international audience about our struggle with EAB.
For more information about the film and toolkit, visit treesintrouble.com.