Congratulations to Dick Rideout, Top Volunteer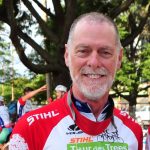 The TREE Fund is pleased to announce the winner of this year's Ken Ottman Volunteer Award – Dick Rideout of Madison, WI. Congratulations, Dick!
The 2014 STIHL Tour des Trees and ISA Conference provided Dick Rideout with the perfect platform to prove that Wisconsin's legendary enthusiasm for Wisconsin cheese is no match for its devotion to its trees. Dick marshalled a formidable team of volunteers to help the TREE Fund plan and execute a Tour that many participants ranked as the Best. Ride. Ever. He also was a driving force behind the Wisconsin Arborist Association's campaign to raise $250,000 for the Bob Skiera Memorial Fund by August, 2014, when the ISA Conference and Trade Show opened in Milwaukee. Dick's passion for tree research and education inspired his colleagues across Wisconsin to give generously to support the science that supports their industry, and inspired the Ken Ottman Award committee to recognize his achievements with the Ottman Award. Dick will receive his official Ottman Award beer stein this October at the 2015 STdT ride in Florida.
The Ken Ottman Award is an annual honor established in 2007 that recognizes a special volunteer who has made noteworthy contributions to advance the mission of the TREE Fund. Awardees receive a specially designed pewter stein engraved with their name and year; their name is also added to the Ken Ottman Award plaque displayed in the TREE Fund office in Naperville, IL