Builta, Gombert and Spring Brook Elementary Schools celebrate Arbor Day with new trees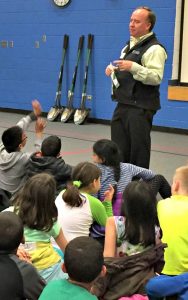 Naperville District 204's Builta, Gombert and Spring Brook Elementary Schools celebrated Arbor Day the old fashioned way last week – by planting a tree – with help from the experts at The Care of Trees, Bartlett Tree Experts and the TREE Fund.
About 375 third and fourth graders learned how trees grow, how to plant the right tree in the right place and what arborists do from Bartlett arborist Scott Stringer and The Care of Trees arborist Charles Shonts. Bartlett Tree Experts donated and installed an eastern white pine at Builta and a tulip tree at Gombert. Spring Brook's new Autumn Blaze maple was donated by Wagner Farms. Students backfilled the trees and helped with their mulching and watering, then bestowed "good growing energy" on them with the TREE Fund's signature blessing ("Grow, Tree, GROW!!")
The TREE Fund presented the schools with tree identification guides and books about trees for their libraries. Each student took home an Arbor Day goodie bag with a seedling and tree-related prizes from Bartlett, The Care of Trees, the TREE Fund and the International Society of Arboriculture.