And the winners of the TREE Fund Arbor Day Promotion are….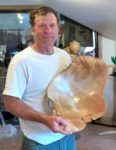 The TREE Fund is pleased to announce that Kent Redding of Germantown, TN, and Andy Kittsley of Orlando, FL, are the winners of the 2016 Arbor Day promotion prizes. The biggest winner, though, is the urban forest, as the promotion raised over $10,000 for tree research and education!
During the week of National Arbor Day (April 25-29, 2016), donors earned a chance to win a beautiful 16" natural edged bowl with each $50 gift to the 2016 STIHL Tour des Trees. Kent, who contributed to Tour rider Joe Lentz's (PA) ride, is now the proud owner of this artisan masterpiece.
At the same time, any Tour rider who received a donation during the promotion period qualified to win a restaurant certificate redeemable during this year's event. Andy, a nineteen-year veteran of the Tour, expressed his excitement about the free meal in his usual laid-back style, "That's pretty nice, thank you."
Congratulations to Kent and Andy, and thank you to all the donors and riders who participated in this successful promotion.
Watch for our summer promotion June 12-20. Get more information about this year's ride and donate at stihltourdestrees.org.