Saluting Branches Continues to Grow and Honor Veterans
by Brandon Gallagher Watson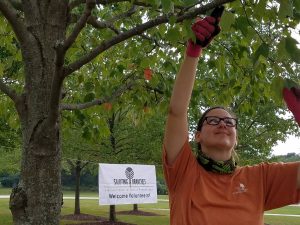 Saluting Branches began as a national service project conceived by TCIA Member, Rainbow Treecare, in 2013 with the first event taking place in 2015. Working in partnership with the US Department of Veteran Affairs National Cemetery Administration (VA), the inaugural event was held at 27 local and national cemeteries. At the time, the VA thought the project sounded great but suggested it begin with no more than 5 – 10 sites as pulling off a successful event at two dozen locations was a big task for a volunteer organization. They were amazed when over 1,000 arborists showed up that first year and established Saluting Branches as one of the most successful charitable service days that benefits the VA every year. From those original 27 sites, the project has grown to include 45 veteran memorial cemeteries across 38 States in just its third year.
The Third Annual Saluting Branches: Arborists United for Veteran Remembrance is set to take place on September 20th, 2017 and, with an estimated 2,000 volunteers, it will be one of the largest service events in our industry's history. "As an arborist it is an honor to participate in this collaborative event. To give one day to honor those who gave their life so that we can enjoy a rewarding career is the least that any of us can do. As we increase our knowledge of what trees actually do for us as humans the role of the arborist becomes increasingly important, but never more important than the role those who defended our freedom. After all with out their sacrifice, none of what we do would be the same." This quote comes from Joe Shaw, an arborist with The Davey Tree Expert Co. but it could have come from any of the thousands of volunteers who have taken part in this meaningful event.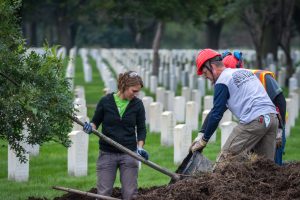 While the project started with the intention of providing professional arborist services at national cemeteries, the scope of the project has expanded to "honor American service men and women by organizing volunteer tree and landscape care for the land and property dedicated to our veterans." This larger vision allows for volunteers with landscaping and turf science backgrounds. It also allows for growth into other memorial sites such as veteran monuments, state veteran cemeteries, or and even sites dedicated to US Military personnel beyond the borders of the United States. In 2016, Saluting Branches had its first day of service at the Mexico City National Cemetery, a site established in 1851 to inter the remains of US soldiers lost during the Mexican-American War.
The growth of the project is the result of individual arborists stepping up to take on a veteran site nearby and meaningful to them. New sites for 2017, including cemeteries in Utah, Montana, Michigan, Arkansas, and south Florida, have all been added because an arborist contacted Saluting Branches through the website or Facebook and requested more information on how to get this started in their community. Many of those who reach out end up becoming Site Leader. Site Leaders play a pivotal role in making the day of service a success for our industry. They coordinate and manage the work, equipment and people at a designated cemetery. Saluting Branches would truly not be possible without these folks taking a leadership role in make this happen on the ground.
Saluting Branches, as a non-profit association, continues to grow as well. While it started as a community service project within Rainbow Treecare, Saluting Branches is now established as its own 501(c)(3) charitable organization. This allows for financial support from sponsors and partners to be tax-deductible donations and sets the groundwork for the future expansion the project into its own self-sustaining charity. Within this, a Board of Directors has been established and was proud to welcome Paul Sellers, a system forester with NSTAR Energy. Paul is the first non-Rainbow Treecare Board member and will help guide the organization over his two-year term.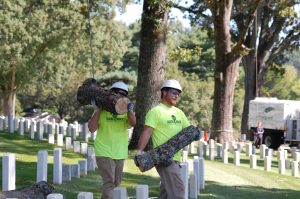 Sponsorships, both from individuals and companies, are integral to the support of the project. With 45 veteran properties eager to participate, support from industry leaders including Rainbow Treecare, ACRT, Inc., The Davey Tree Expert Company, STIHL®, and Petzl®, make it possible to expand the experience and grow the reach. The financial contributions cover meals for the thousands of volunteers, helping with administration and marketing costs, and allowing for volunteer appreciation gifts. Additional sponsor partners include Arborwear, Teufelberger, SavaTree, Guardair, AirSpade Division, Jarraff Industries, RDO, Banditt, Anderberg Printing, ArborMAX, At Height, Teupen Lifts, Tree Stuff, TCIA, ISA, and UAA.
While it is easy to get caught up in the planning, organizing, and logistics of the event, no Saluting Branches volunteer ever losses sight of why we are here and the contribution this Day of Service provides. "Our ability to contribute to the upkeep and beauty of these sites is a small token of appreciation for which I am deeply touched and honored to be a part of," says Matt Bartelme from TCIA member company, Barts Tree Service. "The 2015 inaugural event was a great opportunity for our organization to give back to our fallen heroes and help to show them the respect that they deserve. Our company is honored to be of service again this year and and we look forward to another fantastic event," reflected Daniel Reposh from Homer Tree in Illinois. Ask anyone who has participated in Saluting Branches and you'll find arborists who are dedicated using their skills to make these sacred sites safer and more beautiful for all who visit.
For more information on Saluting Branches and to find a site near you, please visit www.SalutingBranches.org.