ISA Announces 2017-18 Donation to TREE Fund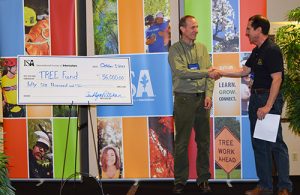 On Thursday, 5 October 2017, ISA President-elect Pedro Mendes Castro presented ISA's 2017-18 donation of $56,000 to the Tree Research and Education Endowment (TREE) Fund. The donation was accepted by TREE Fund President and CEO J. Eric Smith following his presentation at the ISA Annual Leadership Workshop.
The donation is being made in two installments and will be used partially for general operating costs to support TREE Fund and the research it facilitates and also for the Bob Skiera Memorial Fund (the "Building Bridges" initiative). The Bob Skiera Memorial Fund supports the development of educational programs and materials to help arborists and urban foresters communicate the importance of the urban forest to urban planners and other decision makers. The Skiera Fund is dedicated to fostering a wider appreciation of the value of trees, their need for proper care, and their benefits to the environment.
As a non-profit foundation dedicated to the advancement of arboriculture and urban forestry, TREE Fund shares ISA's commitment to scientific research, professional training, and public education. ISA's increased financial support of TREE Fund advances the objectives of both organizations.
This article originally appeared in the October 2017 issue of ISA TODAY, a publication of International Society of Arboriculture (isa-arbor.com). This content is reprinted with full permission of the publisher.