Spring 2011 TREE Fund Report: TREE Fund Research Update: Lingering Ash
Return to Table of Contents – Spring 2011 TREE Fund Report
TREE Fund Research Update: Lingering Ash Survivors of the Emerald Ash Borer Invasion
Contributed by:
Daniel A. Herms, Dept. of Entomology, OARDC, The Ohio State University
Kathleen Knight, Northern Research Station, US Forest Service, East Lansing, MI
Jennifer L. Koch, Northern Research Station, US Forest Service, Delaware, OH
Therese Poland, Northern Research Station, US Forest Service, East Lansing, MI
The emerald ash borer (EAB) is an invasive, non-native insect that has been responsible for devastation of the ash resource, both in the nursery industry and in our forested landscapes, since it was discovered in the Detroit area in 2002.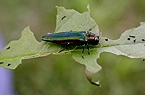 Initial reports following the outbreak of EAB in urban areas indicated that there was no resistance to this insect. Such urban trees are usually a limited representation of a few horticultural selections of the species. As the beetle spread into more genetically diverse native stands and woodlots, over 250 plots were established throughout Michigan and Ohio to monitor the impact of EAB. In some areas where EAB has been present for several years and almost all of the ash trees are dead, a small number of ash trees persisted-about one in one-thousand. Researchers from the U.S. Forest Service and The Ohio State University have initiated work to preserve these "lingering ash" – the last remnant of the regional ash resource-through grafting. In addition, researchers are using various bioassays to determine if these trees possess rare genes that allow them to resist invasion by EAB, or if they are simply the last trees to die. Foliar feeding studies using adult beetles demonstrated that some of the lingering ash selections are indeed significantly less preferred relative to horticultural cultivars and seedlings of the same species. Further support of this finding was inadvertently obtained when an EAB outbreak at the Forest Service ash rearing facility in Delaware, OH resulted in the infestation of horticultural cultivars growing alongside lingering ash selections, but the lingering ash remained uninfested. These lingering ash trees will be used in breeding programs to further enhance EAB-resistance, develop a seed source for restoration of ash, and develop new cultivars that will restore the status of ash as a profitable ornamental tree in the nursery industry.