TREE Fund Trustees Announce Search for Next President/CEO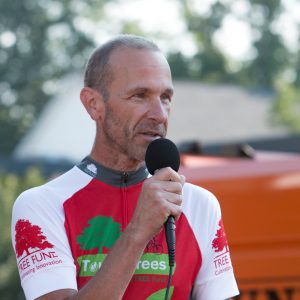 TREE Fund President and Chief Executive Officer J. Eric Smith has announced his retirement, effective October 31, 2019. The Board of Trustees are beginning the search for his replacement immediately.
"TREE Fund's Trustees are happy for Eric and his family as they move on to the next phase of their lives, though obviously very sorry to see him leaving the organization," notes TREE Fund Board Chair Steve Geist, BCMA, RCA. "Eric has positioned TREE Fund exceptionally well over the past four years. We consider our President/CEO position to be a highly attractive opportunity for a skilled nonprofit professional. We expect our next leader to build on his successes as we continue our work on behalf of urban and community forests and the hard-working professionals who care for them. We are glad that Eric intends to stay involved in our work as a Tour des Trees rider and donor, and we are grateful to have his assistance in the search process through the months ahead."
The full position description for TREE Fund's President/CEO is available here. TREE Fund is a 501(c)3 organization based in the greater Chicago region. Established in 2002 via a merger of the International Society of Arboriculture Research Trust and the National Arborist Foundation, TREE Fund has awarded over $4.3 million in grants toward its mission of identifying and funding programs that support the discovery and dissemination of new knowledge in arboriculture and urban forestry.
The President/CEO search is open now and will continue until the desired candidate is hired. Qualified applicants who are interested in the position must submit a complete resume with a cover letter clearly expressing why the role interests them, how their professional experiences suit them for this leadership role, their salary expectations, and their starting availability timeline. Required documents must be emailed to jesmith@treefund.org with the subject line "President/CEO Search." Resume and cover letter titles must include the applicant's full name. Please do not call TREE Fund's offices with inquiries regarding the status of the search or of your application.