TREE Fund names Russell King as its new President and Chief Executive Officer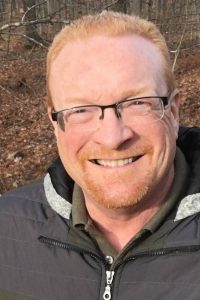 FOR IMMEDIATE RELEASE
TREE Fund names Russell King as its new President and Chief Executive Officer
Naperville, IL, October 28, 2019 – Tree Research and Education Endowment Fund (TREE Fund) is pleased to welcome its new President and CEO, Russell King, who is taking the reins at the Naperville, Illinois-based nonprofit organization on October 28. King's hire followed an extensive national search to replace J. Eric Smith, who is retiring as President and CEO after four years' service to the organization.
King is a seasoned nonprofit executive with over 25 years' experience in the public sector, including multiple chief executive roles. He has a Bachelor of Science degree from San Diego State University, an MBA from LaSalle University, and is a graduate of the University of Delaware's Institute for Organization Management. He is the author of four books, a long-time contributor to numerous online and traditional print media outlets, and has an extensive community service resume, including election to the Verona (Wisconsin) Area Board of Education.
"We are truly delighted to have hired Russell to serve as our new President and CEO," says TREE Fund Board Chair Steven D. Geist, BCMA, RCA. "He is a deeply experienced nonprofit executive, with formidable leadership, development, communications and financial skills. Russell has a proven track record of leading growth and transformation in the nonprofit sector, and the Search Committee truly admired his deep hands-on, mission-driven, servant leadership experiences throughout his career. We are confident that he will sustain and build on our recent successes under Eric's administration, and we look forward to working together to benefit our urban and community forests and the skilled professionals who care for them."
"Communication, collaboration, diversity, and servant leadership have been, and remain, the keys to my success with those I serve, whether staff, board members, donors, or the communities we support," says King. "Although the depth and breadth of my experience and education may have uniquely qualified me for this role, what most defines me is the passion with which I immerse myself in a worthy cause. When I take on a mission, it becomes my driving force, my raison d'être. I now look forward to putting my abilities to work on behalf of TREE Fund."
About TREE Fund: TREE Fund is a 501(c)3 organization dedicated to the discovery and dissemination of new knowledge in urban forestry and arboriculture. Since 2002, TREE Fund has distributed over $4.4 million in research grants, scholarships and funding for environmental education to advance the science, practice and safety of tree care and engage the next generation of tree stewards.