Update: MillionTreesNYC Training Program: Winter 2012
Return to Table of Contents – Winter 2012 TREE Fund Report
Since 2009 New York City's MillionTrees Training Program (MTTP), in collaboration with the TREE Fund and its partners, has provided paid job training in tree and plant care skills to underemployed or disenfranchised city youth. Using its parks as outdoor classrooms and expert trainers from STIHL Inc., Bartlett Tree Experts, Asplundh Tree Expert Co. and The Davey Tree Expert Company, the New York City Parks & Recreation Department has crafted a program that produces a trained workforce to care for the city's trees and landscapes while providing green career opportunities for some of its young residents.
The Parks Department rigorously screens applicants for the 7-month program, and devotes the first 6 weeks of training to "orientation" courses related to arboriculture, horticulture, safety and the life skills needed to succeed in the workforce. The next step is job-specific training in either Ecological Restoration or Arboriculture. Trainers, equipment and support for the MTTP Arboriculture Track are provided at no charge by TREE Fund partners STIHL, Bartlett, Asplundh and Davey. The program graduated its second class of trainees in 2011, and 9 more Arboriculture trainees are on track to graduate in April 2012.
In November 2011 the MTTP trainees joined forces with 91 local volunteers to plant 75 large (15-30 gallon) and 300 small (1-gallon) trees in NYC neighborhoods chosen for their sparse tree canopy and high hospitalization rates for asthma. After a presentation by the trainees about the MillionTreesNYC Initiative and the MTTP program, the group got down to the work of planting trees. According to Brian Aucoin, New York City's Director of Environmental Service Learning & Training Programs, these opportunities to share their knowledge with others during community planting projects have been a source of pride for the trainees. The community plantings also fulfill MTTP's objectives of working in underserved neighborhoods, instilling a service ethic in its trainees and educating citizens in the importance of caring for the trees in their neighborhoods.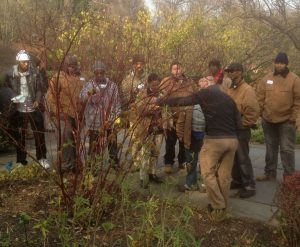 December found the trainees immersed in classes on plant care, nursery stock, winter tree identification, chainsaw maintenance and safe chainsaw use. The Arboriculture trainees also received a week of hands-on training in climbing, rigging and pruning that included instruction in using tools safely while aloft. Asplundh brought its "Volts Wagon" on site for a session on electrical hazards and a live line demonstration.
The benefits of the MTTP program are hardly limited to the trainees, or the city. David McMaster, Vice President for Bartlett, spoke for many of the professional trainers who return each year to work with the Arboriculture trainees when he said, "The arboriculture industry needs more joint ventures like the MTTP.
We start out with a group of trainees who've never touched a chain saw or climbed a tree, and watch them evolve into competent, employable young adults. By the end of the week we had the entire class working comfortably and safely in trees as high as 50 feet, and cutting log lengths competently and safely. We come back each year because the students are always so engaging, and we leave with the feeling that we've accomplished more than just job training. This program is really about changing lives."
Brian Aucoin (NYC Parks and Recreation Dept.), David McMaster (Bartlett Tree Experts) and Mark Foster (Asplundh Tree Expert Co.) contributed to this article.