2014 | The Morton Arboretum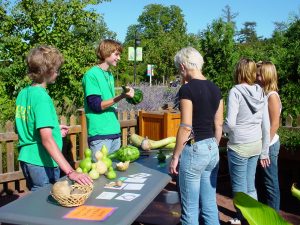 The Macgyver Program (Morton Arboretum Children's Garden Youth Volunteers) mentors 7th-9th grade student volunteers along two tracks:
Naturalists, who interact with Children's Garden guests and facilitate interactive activities; and
Gardeners, who work with horticulturists to plant, harvest, and maintain four of the Children's Garden Growing Gardens.
The Naturalists track is designed to help develop skills in public speaking, early childhood education, and environmental interpretation, while Gardeners develop skills in gardening including soil management, garden design, plant selection, harvesting edible plants, pest control, and ornamental gardening. Each Macgyver volunteer is trained and works approximately 30 hours a year during school holidays and on weekends from May-October in the Children's Garden. In 2014, the program was at maximum capacity, serving 90 middle school and high school students.
Macgyver volunteers are connected with younger children to teach them about gardening and the natural world in engaging ways, strengthen their own knowledge and connection to the natural world, develop skills in public speaking and early childhood development, and enhance their leadership qualities. Participants not only learn about the environment, but also about important transferable skills that reinforce their experiences at home, in school, throughout their communities, and when making plans for their futures.
Through the Macgyver program, volunteers gain unparalleled access to world-class plant collections, quality training by leading educators, and access to nationally and internationally renowned research scientists who are at the top of their field. With training that combines scientific inquiry-based practices with mentoring and leadership skills, students in the Macgyver program gain invaluable real-world experiences that will benefit them for years to come.
Since the Macgyver Program began in 2006, it has benefited over 300 students who have provided more than 2,000 hours of volunteer service each year.
Funding from the TREE Fund in 2014 allowed the Arboretum to provide Macgyver volunteers with the resources, materials, and training they needed to teach others about natural science in the Children's Garden and learn about careers in the tree science field.