Seeing the Forests and the Trees
2014 | Foundation of the State Arboretum of Virginia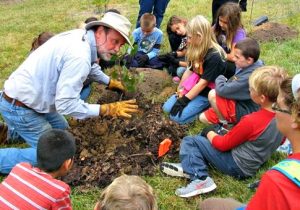 The "Seeing the Forest and the Trees" project incorporated tree biology and forest ecology into the science, mathematics, and literacy curricula for the entire 3rd grade of rural Clarke County Public Schools (CCPS) in Virginia. During this school year-long project State Arboretum of Virginia Environmental Educators trained Clarke County educators in outdoor teaching methods, taught students about tree adaptations and the ecological importance of forests, and gave students and teachers the chance to plant 20 native trees in the Community Forest at the Arboretum and 32 native trees at the county high school. Arboretum Environmental Education instructors collaborated with CCPS teachers to develop a year-round interdisciplinary curriculum that incorporated indoor and outdoor learning components. This curriculum provided hands-on opportunities for students to get down into the roots of forest ecology and to experience human connections with trees.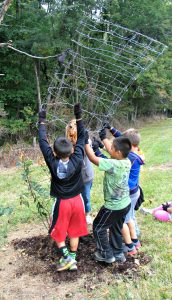 At the Arboretum, students engaged in three two-hour education investigations focused on forest ecology and participated in an Arboretum forest restoration project by planting native trees in The Community Forest grove. During these investigations students explored tree biology up close, using scientific tools to examine tree leaves, bark, buds, and organisms that are dependent on trees and forest ecosystems. At school, the existing trees on school grounds served as focal points for school-year observations. Our project web site provides more information about this project, including the tree biology and ecology lessons developed and taught, photographs, and resource links.
TREE Fund funding covered the cost of transporting 3rd grade students to the Arboretum three times to engage in authentic investigation activities; project funds also enabled us to plan a trip to the county high school where the 3rd graders planted 32 trees, creating a grove of trees in a shadeless landscape. Both schools are Title I schools and do not have funds for transportation. Without these funds, students would not have had out-of-school learning experiences. TREE Fund support provided the opportunity for 160 3rd grade students to engage in over 35 hours of outdoor-based learning focused on tree biology and ecology. In addition, TREE Fund funds were used to purchase science investigation supplies and tree-focused fiction and non-fiction books for teachers. Each teacher had a budget of $312.50 for supplies and $100 for books to continue this project beyond the project school year. Teachers at both schools pooled their funds to purchase shared resources which included microscopes, soil sieves, hands lenses, owl pellet kits, field measuring tapes, dissecting kits, beakers and graduated cylinders, numerous other supplies and a diversity of books suitable for all levels of readers. Teachers exclaimed that it was "like Christmas in June" when the books and supplies were distributed. These resources will make it possible for teachers to continue to teach TREE Fund lessons, engage their students in tree-related science investigations, and explore the fascinating world of trees.