Help restore the American chestnut tree with the 10,000 Chestnut Challenge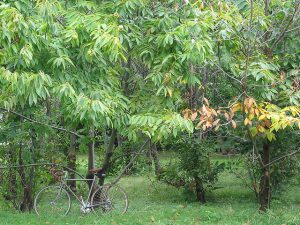 Scientists at the SUNY College of Environmental Science and Forestry (ESF) are growing the first American chestnut trees that can withstand the blight that virtually eliminated the once-dominant tree from the eastern United States. Read the article here.
Dr. William A. Powell, Co-Director of the American Chestnut Research & Restoration Project at SUNY-ESF and friend of the TREE Fund, recently sent us an update on this exciting news and outlined the next challenges to the restoration efforts:
Dear American chestnut enthusiasts,
I am emailing you because we have had some good email discussions about our American chestnut research in the past and I wanted to give you an update. The good news is that we now have blight resistant American chestnut trees. The less than exciting news is that we still have a rigorous regulatory review ahead, which will take several years. But we have a plan. We will produce a large number of these blight resistant American chestnut trees on our permitted sites during the review so that many trees will be available to the public as soon as we have governmental approval.
Last Thursday we started the 10,000 Chestnut Challenge to help us produce blight resistant, transgenic American chestnut trees. This campaign has two purposes. First to raise much needed funds to produce significant numbers of trees and second is to let the general public become part of this restoration effort through their giving or just through their non-monetary support.
We need your help. For this to work, we need to get this challenge out to as many people as possible. Therefore, please do the following at www.esf.edu/chestnutchallenge:
Donate if you are able. If you can't donate, we still need your moral support by clicking the support button under the donation button.
Please pass this on through all social media you use and when you do, ask others to do the same. Ask your friends, family, and coworkers to join in on this challenge.
Write a positive comment on the 10,000 chestnut challenge page.


If this works, we will have raised needed funds and hopefully find thousands of new supporters who can later help when we go through the open comment period of the regulatory review. Thanks for your help. It is much appreciated. Keep track on how we are doing by checking back at www.esf.edu/chestnutchallenge.
Sincerely,
Bill
Dr. William A. Powell 10,000 Chestnut Challenge 
www.esf.edu/chestnutchallenge
Director, Council on Biotechnology in Forestry Co-Director of the American Chestnut Research & Restoration Project Roosevelt Wild Life Station Scientist-in-Residence
2013 Forest Biotechnologist of the Year
SUNY College of Environmental Science and Forestry 1 Forestry Drive Syracuse, NY 13210-2788
http://www.esf.edu/efb/powell