Sprouting young tree stewards in the Midwest
How do you get today's urban-dwelling, plugged-in teens thinking about environmental stewardship, leadership skills and green careers? Two programs funded by TREE Fund Arboriculture Education Grants in 2014 are focused on that, with waiting lists for participation.
In 2014, 90 7th-9th graders volunteered as 'Naturalists' or 'Gardeners' in the Macgyver Program (The Morton Arboretum Children's Garden Youth Volunteers) at Chicagoland's The Morton Arboretum. Teens in the Naturalist track teach younger children about gardening and the natural world in the Arboretum's award-winning Children's Garden. In the process they develop skills in public speaking, early childhood education and environmental interpretation. The Gardeners get their hands dirty (literally) learning about garden design, soil management, plant selection, pest control, and harvest practices.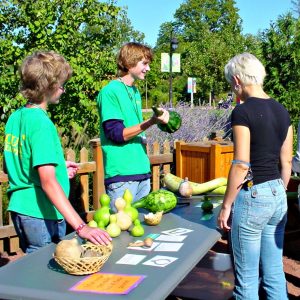 There are no slackers here – each teen works roughly 30 hours a year during school holidays and weekends May to October. Macgyver volunteers not only strengthen their own knowledge and connection to the natural world but also learn important leadership, teamwork and communication skills that can be applied at home, in school, in their communities, and in their plans for the future. Read more about this unique career modeling and mentoring program on the TREE Fund website.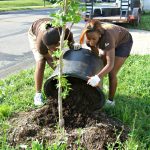 Keep Indianapolis Beautiful's Youth Tree Team also is engaging teens in nature and teaching important life skills, but with a different twist. Keep Indianapolis Beautiful (KIB) works to preserve and grow the Indianapolis tree canopy by planting thousands of large native trees each year. KIB's Youth Tree Team (YTT) hires underserved city youth to identify, water, mulch and prune recently-planted KIB trees during the summer, with the option to continue employment on weekends throughout the school year. In 2014, the program enrolled 64 teens and 16 team leaders who cared for over 4,200 trees.
YTT teens spend the summer outdoors, connecting to the environment, learning about applied arboriculture and practicing leadership skills (by leading team activities). Participants also visit nature centers, network with potential green industry employers and get out of town for a wilderness camping experience.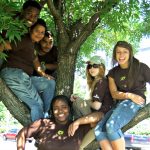 YTT won the 2009 National Innovation Award for Beautification from Keep America Beautiful. Matt McKenna, past president of Keep America Beautiful, praised the program: "Innovation is a key component of developing fresh, dynamic programs that will energize communities to improve their local environments. We applaud Keep Indianapolis Beautiful for developing a program like the Youth Tree Team that involves local citizens affecting positive change." Read more about this outstanding program on the TREE Fund website.
The TREE Fund is proud to support programs like these that are getting teens out of the house and into nature. Find out more about our Arboriculture Education Grants and other projects we've funded in our Grant Archives.