Green Teens – Vocational Skills Job Training
2017 | Friends of the Urban Forest
Through education and workforce development, Friends of the Urban Forest delivers one of the only paid urban forestry vocational skills training programs available in the country working exclusively with San Francisco's most disadvantaged communities. Our goal is to provide practical job skills training to low-income, high school aged youth, with a program focus including tree planting, sidewalk garden installation, care/maintenance, and work readiness. Employment and training for the Green Teens Program is an integral part of Friends of the Urban Forest's ongoing plans to expand and preserve San Francisco's tree canopy, while providing employment to at-risk youth, empowering them to continue moving their lives in a positive direction.
Program Results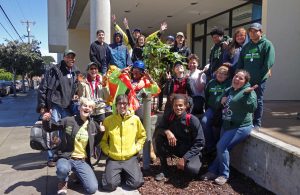 A wide range of seminars was offered by outside providers; the emphasis was on work readiness. Subjects covered were resume development (Jewish Vocational Service), interview skills (Recology), green advertising (Price Waterhouse Coopers), green jobs (SFPUC), financial literacy (Wells Fargo), and healthy eating (Whole Foods).
Another important aspect of work readiness is helping the youth develop relationships with individuals who live in different parts of the city. For example, at a sidewalk garden site in San Francisco's Castro District, the youth were joined by neighborhood residents, FUF planting volunteers and additional volunteers from Research Now, an international research company with local offices on Montgomery Street.
The addition of an advanced crew helped to bring about a dramatic productivity gain in city-wide tree maintenance (structural pruning, hardware adjustment and pest and disease inspection). In Q1, the basic and advanced crews working together maintained 582 trees – a record for the year. Overall, the three sessions provided needed care to 981 young trees (98% of goal). Youth crews worked at 10 tree planting events where 367 new trees were planted (versus 265 for the last program cycle). The majority of these plantings were in the low-income neighborhoods that are a priority for new trees and sidewalk gardens.