Summer 2011 TREE Fund Report: 2010 Hyland R. Johns Research Grant Update
Return to Table of Contents – Summer 2011 TREE Fund Report
Biochar and its Potential as an Arboricultural Amendment
Principal Investigators:
Bryant C. Scharenbroch, Ph.D.
Urban Soil Scientist
The Morton Arboretum
bscharenbroch@mortonarb.org
Kelby Fite, Ph.D.
Arboricultural Researcher
Bartlett Tree Research Laboratories
kfite@bartlettlab.com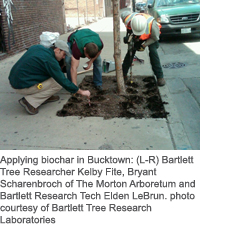 This research project was featured on Chicago's WLS Channel 7 evening news broadcast on Earth Day, April 22, 2011. Watch the video
SUMMARY
Biochar, a waste product derived from the burning of biomass, has been used for centuries throughout the world for restoration of infertile soils. Urban soils are often deficient in carbon, available nutrients and biological activity. Because biochar has a high affinity for nutrients and long persistence, it may be a superior organic amendment for urban soil restoration.
Biochar appears to have tremendous potential for modern arboriculture and urban forestry. The need for a comprehensive evaluation of biochar in the context of urban tree management is immediate. Organic approaches like biochar are rapidly becoming incorporated into the industry, and it is imperative that knowledge regarding the preparation, application, limitations, and benefits of biochar are based in science, not simply anecdotal trials. Once the benefits and limitations of biochar are scientifically evaluated then cost comparisons to other arboricultural management strategies can be made. To date, no studies have examined biochar's impact on urban trees and soil.
In 2010, the TREE Fund awarded a Hyland R. Johns grant (10-HJ-02) to Bryant Scharenbroch, Ph.D. of The Morton Arboretum Soil Science (MASS) laboratory and Kelby Fite, Ph.D. of Bartlett Tree Research Laboratories to complete three experiments on biochar for urban tree care.
At The Morton Arboretum greenhouse, Gleditisia tricanthos and Acer saccharum trees are planted in microcosms with substrates of sand, A-horizon silt loam, or Bt-horizon clay loam and studied over two years.
At The Morton Arboretum tree nursery, five species of five-year-old trees (Acer freemanii, Betula nigra heritage, Gleditisia skyline, Malus sugar tyme, and Tilia flavescens) will be studied over a three-year period.
In the Bucktown-Wicker Park neighborhood of Chicago, IL, 54 street trees (3 to 7 inch diameters including Ulmus 'Morton Glossy', Gymnocladius dioicus, Fraxinus americana, and Gleditisia triacanthos) in sidewalk cut-outs (c.a., 30 ft2) are being studied over three growing seasons. The four treatments being applied in these three experiments are biochar, fertilizer, biochar plus fertilizer, and water control. Improvements in soil quality will be quantified by measuring the physical, chemical, and biological properties of soils. Tree health will be assessed above and below ground. This research will also explore application procedures and economic considerations for biochar as it relates to arboriculture and urban forestry.
| | | | |
| --- | --- | --- | --- |
| | Wood chip (left), wood pellet (middle), and crushed wood chip (right) biochars (Scharenbroch). | | Biochar being tested in the TREE Fund studies (Scharenbroch). |
| | Biochar Greenhouse Experiment at The Morton Arboretum (Scharenbroch). | | Biochar being applied on The Morton Arboretum Tree Nursery Experiment (Scharenbroch). |
| | Street tree to be included in Bucktown Biochar Experiment (Scharenbroch). | | Baseline soil sampling in Bucktown Biochar Experiment (Scharenbroch). |
| | Drilling holes and applying biochar in Bucktown Biochar Experiment (Scharenbroch). | | Application of biochar in Bucktown Biochar Experiment (Scharenbroch). |