This special Arbor Day post is courtesy of Dave Leonard—tree aficionado, TREE Fund Liaison for ISA-KY, and owner of Dave Leonard Tree Specialists in Lexington, KY.
When trees are properly cared for, they are valuable – and growing – assets, worth 3 or more times their investment (in fact, you can even calculate trees estimated benefits to your property using Davey's National Tree Benefit Calculator).
Healthy trees give us:
1. Healthy people
100 trees remove 1.2 tons of CO2 per year
100 trees remove 130 lbs. of pollutants per year
Recent studies have shown that the loss of ash trees due to the Emerald Ash Borer in 15 states has caused 15,000 more deaths from cardiovascular disease and 6,000 more deaths from lower respiratory disease. I met Geoffrey Donovan, researcher, (gdonovan@fs.fed.us) at a recent conference and was amazed at the information collected for this research.
2. Healthy communities:  Tree filled neighborhoods have lower levels of domestic violence, and are safer and more sociable.
3. A healthy environment: 100 mature trees catch about 77,000 gallons of rainwater per year, decreasing stormwater runoff.
4. Homeowner savings: Properly placed trees can save you up to 30% on annual air conditioning costs and save 10-15% on winter heating costs.
5. Higher property values: Each large front yard tree can add 1% to your house sales price. Back yard trees have slightly lower values. Large specimen trees can add 10-15% to your property value.
This ash adds tremendous value to the property.
6. Better business: In tree-lined commercial districts, shoppers report :
more frequent shopping
longer shopping trips
willing to spend more for parking
willing to spend up to 12% more for goods
When trees are neglected, they can become a liability.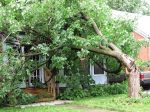 Trees should be protected carefully during construction.
Across the country, environmental and aesthetic benefits such as energy savings, stormwater runoff reduction, cleaner air, and higher property values are an average of three times greater than tree care costs. The USDA Forest Service agrees, it pays to take care of your trees!
About the Author
Dave Leonard has been promoting tree health care in Lexington, Kentucky for 38 years. As an active member of the International Society of Arboriculture (ISA) for 32 years, Dave has served as both president and executive director of ISA's Kentucky Chapter and has been a member of its Board of Directors for 25 years. He is also the TREE Fund Liaison to the Kentucky Chapter of ISA.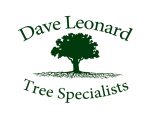 1302 N. Limestone St.
Lexington, Kentucky 40505